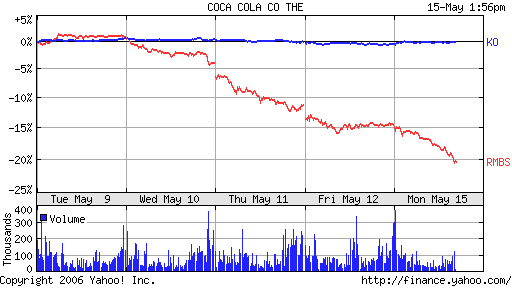 May 12, 2006
DAVIDOW WILLIAM H
May 11, 2006
PATEL SAMIR
May 09, 2006
DAVIDOW WILLIAM H
May 05, 2006
DUNLEVIE BRUCE

May 05, 2006
DAVIDOW WILLIAM H
May 04, 2006
DANFORTH JOHN D
**

May 04, 2006
STARK LAURA
May 04, 2006
FARMWALD MIKE
May 03, 2006
DAVIDOW WILLIAM H
May 03, 2006
STARK LAURA
May 03, 2006
DANFORTH JOHN D
**
May 03, 2006
MOORING DAVID G
**

**
Pursuant to a 10b5-1 trading plan.
Compensation Committee
Dr. Geschke served as Chairman of the Compensation Committee until March 11, 2005 when he resigned from the Board of Directors and Dr. Farmwald was appointed to such committee. Currently, the Compensation Committee is comprised of Mr. Dunlevie, Dr. Farmwald, and Dr. Kennedy with Mr. Dunlevie serving as Chairman of the Compensation Committee. Mr. Dunlevie has served as the Chairman of the Compensation Committee since March 11, 2005. The Compensation Committee, which met four times during 2005, reviews and makes recommendations to the Board of Directors regarding all forms of compensation to be provided to our executive officers and directors of Rambus, including base compensation, bonuses, and stock compensation. All members of the Compensation Committee are non-employee, outside directors. Its duties include:
• Monitoring the leadership development process,
• Reviewing and approving objectives relevant to executive officer compensation,
• Evaluating performance and determining the compensation of executive officers,
• Approving severance arrangements and other applicable agreements for executive officers, and
• Recommending to the Board of Directors director compensation.
PROPOSAL TWO:
APPROVAL OF THE 2006 EQUITY INCENTIVE PLAN
Our Board of Directors believes that long-term incentive compensation programs align the interests of management, employees and the stockholders to create long-term stockholder value. Our Board believes that plans such as the Incentive Plan increase our ability to achieve this objective, especially, in the case of the Incentive Plan, by allowing for several different forms of long-term incentive awards, which the Board believes will help us to recruit, reward, motivate and retain talented personnel.
Our Board believes that approval of the Incentive Plan is essential to our continued success.
The Incentive Plan provides for the grant of the following types of incentive awards: (i) stock options, (ii) stock appreciation rights, (iii) restricted stock, (iv) restricted stock units, (v) performance shares and performance units, and (vi) and other stock or cash awards. Each of these is referred to individually as an "Award." Those who will be eligible for Awards under the Incentive Plan include employees, directors and consultants who provide services to the Company and its affiliates.
The Board has reserved
8,400,000
shares of our Common Stock for issuance under the Incentive Plan. The Board expects that the number of shares reserved for issuance under the Incentive Plan will be sufficient to operate the plan for two years without having to request additional shares.
Aggregate number of shares of common stock subject to options
granted
under the 1997 Plan during the
last fiscal year
:
All executive officers, as a group
250,000
All directors who are not executive officers, as a group
160,000
All employees who are not executive officers, as a group
2,923,740

***
Or, things go better with Coke .
. .